China is one of the countries in the world with the most severe natural disasters. The disasters are various in types, cover large geographic areas, have high frequencies and result in huge losses. An earthquake with huge destructive power took place in Wenchuan, Sichuan province, resulting in high casualties and big financial losses on May 12, 2008. To continue increasing the awareness of disaster prevention and reduction by the general public and to improve the work capabilities for disaster prevention, reduction and relief, starting from 2009, approved by the State Council, May 12 every year is named the National Disaster Prevention and Mitigation Day. May 12, 2022 is the 14th National Day of Disaster Prevention and Mitigation in China. This year's theme is "Reduce disaster risk and protect our homeland".
The United Nations Educational, Scientific and Cultural Organization (UNESCO) has long attached importance to global cooperation in the field of disaster prevention and mitigation, and is committed to promoting knowledge sharing and services for disaster prevention and mitigation. As a category II center of UNESCO, the International Knowledge Centre for Engineering Sciences and Technology under the Auspices of UNESCO (IKCEST) established Disaster Risk Reduction Knowledge Service sub-platform (DRR). Impelled by UNESCO's mission of disaster prevention and mitigation, IKCEST-DRR is committed to formulating global metadata standards and establishing a global meta-database for disasters by consolidating the data from different kinds of disasters; integrating cross-disciplinary, cross-field, and cross-region disaster data resources and providing knowledge service applications on line; and carrying out education, training, and technology exchange on disaster risk reduction. IKCEST-DRR was launched in May 2017 (http://drr.ikcest.org), providing free knowledge sharing services for domestic and foreign users.
IKCEST-DRR is going to organize the collection of related works in order to comply with the appeal of people from all walks of life to China's disaster prevention and mitigation, on the other hand, to remind people to pay more attention to disaster prevention, and strive to reduce disaster losses. We hope you will participate in the collection!
Requirement:
Photography, painting and video works related to disaster prevention and reduction publicity are invited. The format requirements are as follows:
The content of work should in line with the relevant national laws and the theme of this activity: healthy and progressive, clearly and innovative, bright and attractive;
Photography, painting and video works are eligible for the competition, and there is no limit on painting techniques;
The works should be suitable for dissemination, and make positive educational significance for disaster prevention and reduction;
Each piece should be accompanied by a brief description to express the intention and process of the creation.
Time nodes:
Work Collection:5.12-6.30;
Work Evaluation:7.1-7.31;
Result Announcement:8.1-8.10;
Awards sending:8.10-8.20 (delivering by mail);
How to participate:
Click the link: https://drr.ikcest.org/collect_work/upload , or scan the QR code below. After registering as a user of DRRKS and logging in, you can submit the entries on this page. The results will be updated on this website after the evaluation process.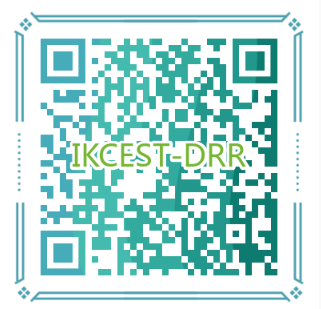 Evaluation Criteria:
The entries will be selected according to their theme relevance, picture expression and originality.
Event Award:
All participants will receive certificates of appreciation. The first, second and third prizes will be awarded for the winners.
Provided by the IKCEST Disaster Risk Reduction Knowledge Service System